Uniform and Equipment
Navy blue blazer with the school logo
Navy blue with white stripe and school crest clip on tie
Formal white shirt with collar (to be tucked inside trousers/skirt)
Plain black or grey full length school trousers. Trousers must be tailored/straight/slim/skinny cut
The following are not allowed: non-black zips, buttons on the outside of trousers, jeans, tracksuit bottoms, leggings or trousers that appear to look like leggings and have no pockets or zip/fly
Optional navy blue v-neck jumper with the school logo
Optional navy tartan pleated skirt
Optional black or grey tailored skirt. The skirt should be no shorter than just above the knee
Plain black socks
Black single colour flat leather/leather type shoes
The following are not allowed: no canvas type or trainers with a different colour logo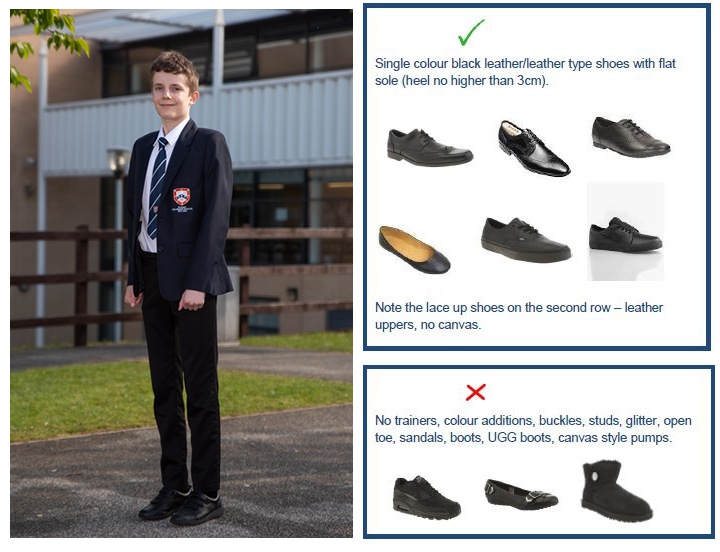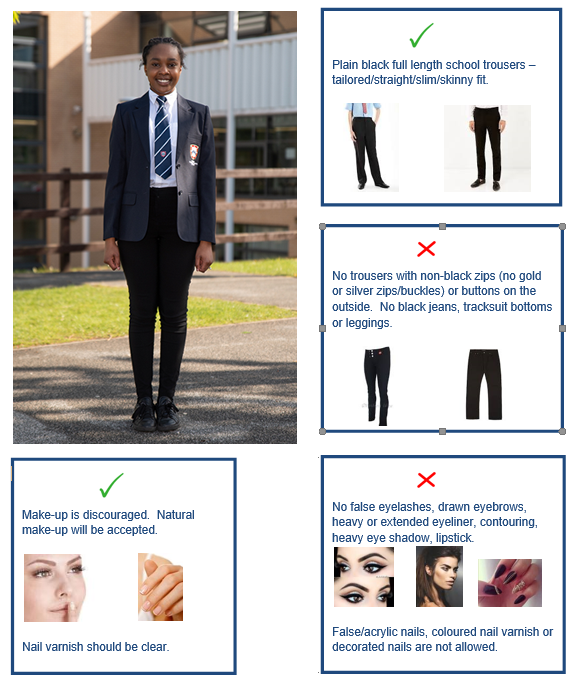 ---
PE Kit 
Compulsory Pudsey Grammar School PE Kit
Pudsey Grammar School

Indoor Navy Sports Polo Top
Either

the  Pudsey Grammar School

Navy Sports Hoodie or Rugby Top 
Studded Football boots

are Compulsory for the PE curriculum for 

Boys Year 7 - Year 11     and Girls Year 7 – Year 9

 

Sports Trainers - Indoor PE ( all students)

Hair bobble ( all students with long hair) 

Optional non Pudsey Grammar School PE kit
The following items are required for PE but can be non Pudsey Grammar School branded, parents  will still have the option to purchase the same items through the school uniform shop with the school logo if they wish. We would recommend purchasing the PGS branded items to avoid any doubt which could result in expensive errors regarding non-PGS items. It is essential that students do not have large logos on non-PGS items - please see our guidelines below if you are in any doubt. 
Navy shorts

or

navy tracksuit bottoms

or

navy sports leggings (not tights)
Navy long socks
Guidelines for purchasing non branded PE kit
Students wishing to wear non branded Pudsey Grammar School PE kit must follow the  guidelines below before purchasing any items:
All items must be

Navy blue and plain where possible
No large logos

on shorts, tracksuit bottoms, hoodies or sports leggings ( see images below)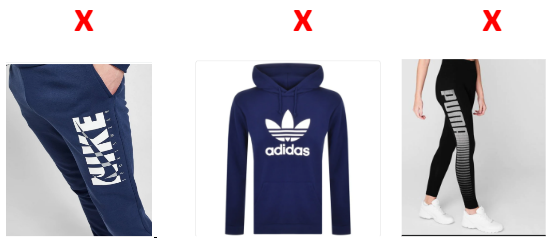 Students must have

plain tracksuit bottoms/ shorts ( no cycling shorts)

- no stripes should been seen  down the side even if they match the main colour of the tracksuit bottoms or shorts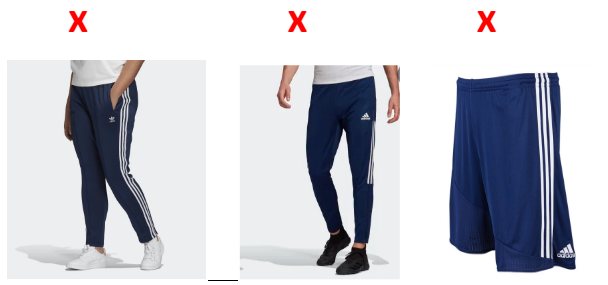 Tracksuit bottoms, hoodies, shorts and sports leggings

should be plain or have a small logo only

  ( see image below)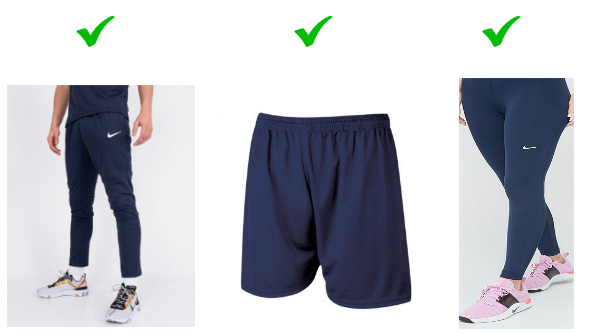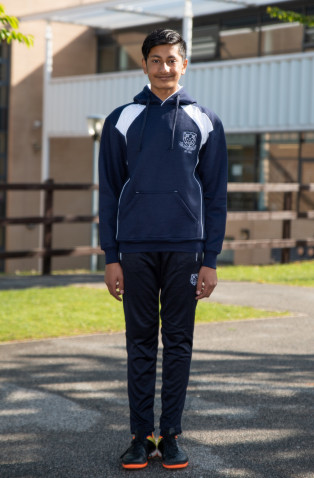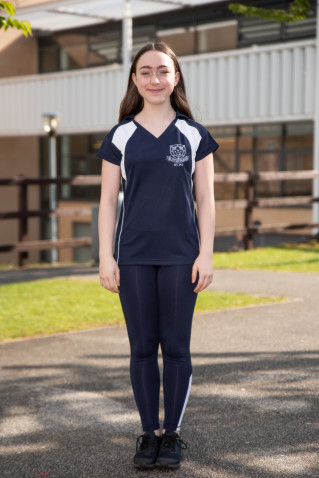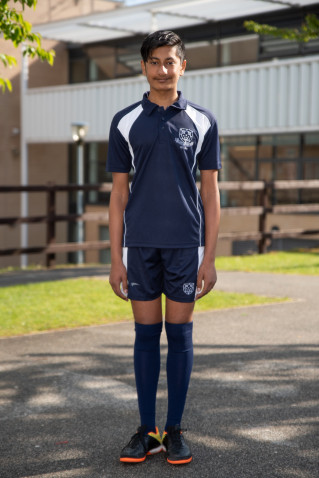 ---
Jewellery
For health and safety students are asked not to wear jewellery, apart from watches and earrings. Students are only permitted to wear stud earrings, with a maximum of one earring per ear. Hoops, bars, expanders, or other forms of earring are not permitted. Other facial piercings are also not permitted.
---
Hair colour/style
Hair colour should be natural (no unnatural colours are permitted).  Hair should not be cut or styled in 'extreme' fashion (e.g. shaved, tramlines).
---
Coats
Students are asked to wear a sensible coat appropriate to the weather conditions (waterproof, warm etc) when walking to and from school.  Students should  not wear 'hoodie' type tops, leather or denim coats/jackets.  Coats should not be worn in the school building and should be stored in lockers or bags.

Hats/caps
Fashion hats and caps should not be worn on the school site.

Shoes – medical exceptions
For medical emergencies only where advice is given against wearing school shoes, black trainers may be worn for the period of time indicated by the doctor. The relevant Year Leader will need to see a note from a medical practitioner on the day or in advance.
---
Basic equipment
Being fully equipped for school is a key part of the 'Home-School Agreement'.  Students should expect to be sanctioned if they do not carry the correct equipment for school.
All students should ensure that they have the following basic equipment for use in all lessons.
Student planner (provided by the school). Students should bring their planner to school with them every day
Pen and a spare (black or blue)
Red pen for 'reflection work'
Pencil
Rubber
15cm or 30cm ruler
Pencil sharpener
Protractor
A pair of compass
Casio Scientific calculator
Glue stick
Dry-wipe pen
A suitable bag to carry equipment, books and PE kit. The bag should be big enough to hold an A4 file (e.g. a rucksack).
Year 7 & 8 Students to have a French dictionary

Year 7 - 10 students to have a reading book.
Equipment will be available to buy every morning before school, at break and at lunch time and checked every day by the Form Tutor.
---
 The list below is to help you understand the standards of personal presentation and dress expected of our students in Years 7 to 11.  Please check with your child's Year Leader if you require clarification.
T-shirts with slogans or polo shirts which are visible under a school shirt are not permitted.
Alternative jumpers or cardigans which do not have our PGS badge are not permitted.
No coloured lipstick or lip balm.  No false nails, false eyebrows/eyelashes or extended eye-liner.
No studded or wide belt leisure type trousers or trousers tucked into boots or socks.
Trousers must not be of a tight fit or with multiple pockets or zips.  Leggings and jeans are not permitted.
Scarves gloves, coats and hoodie tops should not be worn in work areas.
No boots, fashion footwear or trainers in place of black shoes.
Hair dyed in 'unnatural' colours or cut/styled in 'extreme' fashion is not permitted.
Earrings must be studs only - maximum of one per ear. No hoops, bars, expanders, or facial piercings.
No fashion jewellery such as necklaces, chains and large rings.
No 'fashion' handbags.
---
Uniform Stockists
The following stores stock the Pudsey Grammar School uniform:
Rawcliffes - Bradford
Whittakers - Farsley
https://www.whittakersschoolwear.co.uk/store/leeds/
Pudsey Grammar School Pre-Loved Online Uniform Store
We are working hard to reduce waste, promote the benefits of recycling unwanted clothing to help our environment and support families in our community during the cost of living crisis.
The initiative is non-profit for school and there is no cost to our parents/carers.  Donated items will be laundered and placed on our website.  Parents/carers can go onto the website and select the items they would like.  Uniform can be collected from the school Reception.  This helps us to ensure the key message of sustainability (avoiding good quality clothing going to landfill sites) can sit at the heart of the project. 
Uniform will be available to purchase on our uniform website, UniformD, at https://app.uniformd.co.uk/items/193 when we have sufficient stock. 
We are reaching out to all our parents and carers to ask for ongoing donations to help make this project a success and would like to thank you for your continued support.
---