Uniform and Equipment
Navy blue blazer with the school logo
Navy blue with white stripe and school crest clip on tie
Formal white shirt with collar (to be tucked inside trousers/skirt)
Plain black or grey full length school trousers. Trousers must be tailored/straight/slim/skinny cut
The following are not allowed: non-black zips, buttons on the outside of trousers, jeans, tracksuit bottoms, leggings or trousers that appear to look like leggings and have no pockets or zip/fly
Optional navy blue v-neck jumper with the school logo
Optional navy tartan pleated skirt
Optional black or grey tailored skirt. The skirt should be no shorter than just above the knee
Plain black socks
Black single colour flat leather/leather type shoes
The following are not allowed: no canvas type or trainers with a different colour logo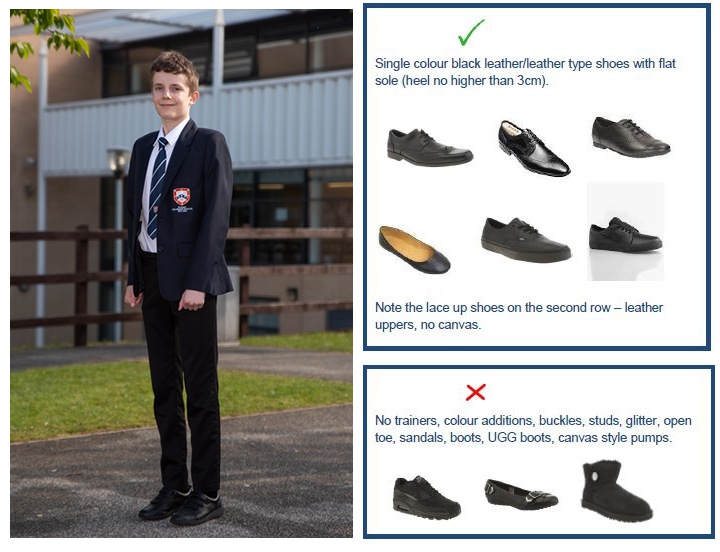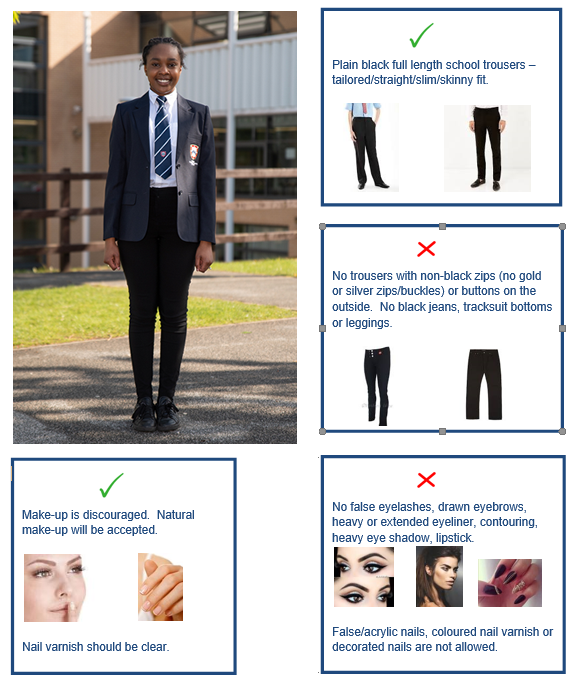 ---
PE Kit 2021/22
The PE kit outlined below is compulsory for Year 7 students, but optional for Year 8 to 11 students from September 2021.  The PE kit is compulsory for all Year 7 to 11 students from September 2022.
Navy body, white pipe, white panel outdoor sports (rugby) top – reversible with the school logo
Standard or fitted navy with white panel polo shirt with the school logo
Navy and white panel shorts with the school crest
or
Navy performance sports leggings with the school initials
Long navy games socks (to wear for indoor and outdoor PE)
Sports trainers (to wear for indoor PE and outdoor on the tennis courts only)
Football studded boots
Optional:
Navy with white panel hoodie with the school logo
Navy slim fit tracksuit bottoms with the school logo
No PE kit should have any visible branding, other than the school logo.
Students do not have to wear all the essential items listed above. Students should wear the indoor kit or the outdoor kit as directed by their PE teachers.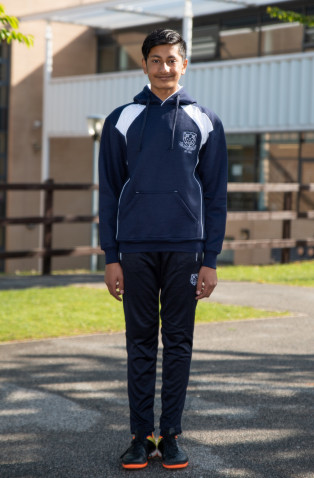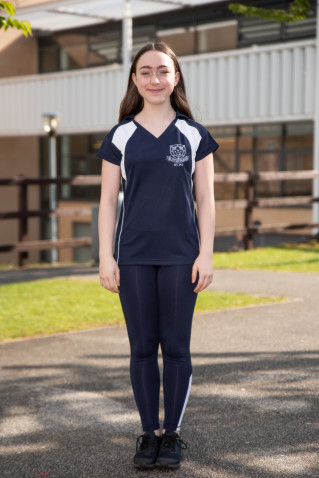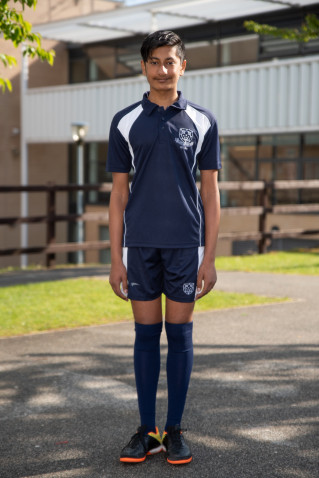 ---
Jewellery
For health and safety students are asked not to wear jewellery, apart from watches and earrings. Students are only permitted to wear stud earrings, with a maximum of one earring per ear. Hoops, bars, expanders, or other forms of earring are not permitted. Other facial piercings are also not permitted.
---
Hair colour/style
Hair colour should be natural (no unnatural colours are permitted).  Hair should not be cut or styled in 'extreme' fashion (e.g. shaved, tramlines).
---
Coats
Students are asked to wear a sensible coat appropriate to the weather conditions (waterproof, warm etc) when walking to and from school.  Students should  not wear 'hoodie' type tops, leather or denim coats/jackets.  Coats should not be worn in the school building and should be stored in lockers or bags.

Hats/caps
Fashion hats and caps should not be worn on the school site.

Shoes – medical exceptions
For medical emergencies only where advice is given against wearing school shoes, black trainers may be worn for the period of time indicated by the doctor. The relevant Year Leader will need to see a note from a medical practitioner on the day or in advance.
---
Basic equipment
Being fully equipped for school is a key part of the 'Home-School Agreement'.  Students should expect to be sanctioned if they do not carry the correct equipment for school.
All students should ensure that they have the following basic equipment for use in all lessons.
Student planner (provided by the school). Students should bring their planner to school with them every day
Pen and a spare (black or blue)
Red pen for 'reflection work'
Pencil
Rubber
15cm or 30cm ruler
Pencil sharpener
Protractor
A pair of compass
Scientific calculator
Glue stick
Dry-wipe pen
A suitable bag to carry equipment, books and PE kit. The bag should be big enough to hold an A4 file (e.g. a rucksack).
Year 7 & 8 Students to have a French dictionary

Year 7 - 10 students to have a reading book.
Equipment will be available to buy every morning before school, at break and at lunch time and checked every day by the Form Tutor.
---
 The list below is to help you understand the standards of personal presentation and dress expected of our students in Years 7 to 11.  Please check with your child's Year Leader if you require clarification.
T-shirts with slogans or polo shirts which are visible under a school shirt are not permitted.
Alternative jumpers or cardigans which do not have our PGS badge are not permitted.
No coloured lipstick or lip balm.  No false nails, false eyebrows/eyelashes or extended eye-liner.
No studded or wide belt leisure type trousers or trousers tucked into boots or socks.
Trousers must not be of a tight fit or with multiple pockets or zips.  Leggings and jeans are not permitted.
Scarves gloves, coats and hoodie tops should not be worn in work areas.
No boots, fashion footwear or trainers in place of black shoes.
Hair dyed in 'unnatural' colours or cut/styled in 'extreme' fashion is not permitted.
Earrings must be studs only - maximum of one per ear. No hoops, bars, expanders, or facial piercings.
No fashion jewellery such as necklaces, chains and large rings.
No 'fashion' handbags.